Newest, beautiful, single women now added for week of Wednesday, 14 April, 2021 - Tuesday, 20 April, 2021
During this COVID-19 crisis, be assured we are still working daily to ensure your success!
Understanding the Dating Culture of Russian Women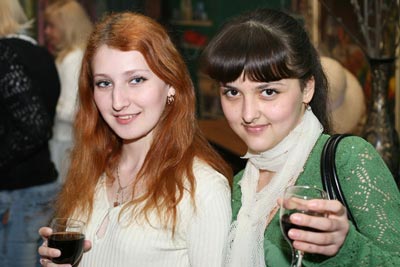 Dating in Russia is a bit simpler than in other countries.
However, simple doesn't always mean easy. It is considered simple because the dating scene in Russia is more traditional than it is modern. Very little has changed since the time of the Soviet Union.
While some aspects may have been influenced by outside cultures, the Russian dating culture remains the same.
Online dating has indeed spread its roots into the Motherland, but while its rules apply only to its respective platform, meeting Russian women in person is a totally different experience.
A typical date in Russia commonly involves sharing a meal. Going out on whimsical walks or hooking up are among the things that are not practiced among fellow Russian men and women.
This is mainly because Russian women date with marriage in mind. It is customary for them to marry at a young age, which is why they are determined to find the perfect husband.
A Russian woman who remains single at an older age is indirectly ridiculed and looked down on by society. While it may seem rude and uncalled for, it has been the norm for over hundreds of years.
Other cultures may find it impractical to marry at an early age, but in Russia, women are simply brought up that way, and up to this day, it is still practiced by many.
Dating Russian Women
Dating usually starts with a customary meeting between a man and woman.
Men are expected to be well groomed and presentable. Word of advice: Wear a nice pair of pants, and be sure to bring a jacket since the climate in Russia tends to be colder than in most western countries.
Men are always expected to be chivalrous, especially if they want to sweep women off their feet. It may be a long-standing custom for them to be more dominant towards women, but when it comes to dating, they are expected to be courteous and gentlemanly as well.
On your first date, always remember to bring flowers. Although this is a common gesture among couples in Russia, it never fails to put a smile on a Russian woman's face. This gesture is even required on all your subsequent dates thereafter.
When doing this, make sure that the flowers are of an odd number. In Russian culture, an even number of flowers is synonymous with giving flowers at a funeral. Also, it is said to be a sign that your relationship will end badly.
Now that you know how to dress and what to bring, it's time to know what you should do during a date.
Romance in Russian culture starts when men make an effort from day one. On your first date, be sure to pick up your Russian lady.
Remember, Russian women invest a lot of time and energy, as well as money on dates. They are fiercely feminine and will do their best to look amazing. You might as well return the favor by offering to pick them up.
Their beauty rituals often start as early as several hours before the date. In some cases, they even prepare several days early so that they can go to the salon and have their hair and nails done.
Their attitude when it comes to dating doesn't mean they want to take advantage of you by enthralling you with their beauty. Like you, they simply want to make a good impression.
During your first meeting, it is customary to shake hands to form an acquaintance. Eye contact should be maintained to show that you are serious with your intentions. When it comes to conversations, you should know what topics to talk about, and which ones to avoid altogether.
Be prepared to answer questions that pertain to your status in life as it will help these ladies determine your level of dominance.
It may feel uncomfortable at first, but when you start to get the gist of their conversation skills, you'll find that it is easier to talk to Russian women compared to women in other countries.
So far, we have learned that:
Gifts are a necessity.

Flowers and other forms of gifts are always expected on a date, be it your first or your successive ones. It is also important to remember to bring an offering for her child (if she has one) or parents if they are living in the same complex. Never forget to avoid bringing flowers in an even number.



Men should be chivalrous.

Men are expected to be tough, but when going out on a date, always make sure you're in your best behavior and be a complete gentleman. Even the smallest of gestures like opening doors and pulling up a chair are taken into consideration. Most importantly, men are expected to shoulder the bill. Being a foreign man does not exempt you from such practices.



It's always important to be presentable.

Russian women invest a lot of time and effort to look good on a date. This means that you should also do the same. Put on your best set of clothes and impress your date on your first meeting. The majority of Russians are Orthodox Christians, so when a Russian lady takes you to an Orthodox church, be sure to dress properly. Sleeveless shirts and shorts aren't allowed, as well as wearing hats. If you want to impress her, do so with your knowledge of their culture, and always make sure to dress appropriately for the occasion.



Conversations matter.

Knowing how to please a Russian woman includes being able to handle conversations well. You may not always be on the same page, so remember not to take things too personally. Don't feel threatened or attacked by personal questions. Russian women will mostly want to make sure that they are dating a dominant man who is mature and capable of being in a serious relationship.
The Importance of Understanding the Dating Culture of Russian Women
Given their highly sought-after beauty, it's no surprise that dating Russian women will take more than the usual dinner dates.
You'll need to have patience, determination, time, and commitment to be able to find an ideal partner among these gorgeous and charming ladies.
If you're intent on being in a relationship with a Russian woman, take the time to learn and understand their dating culture. Only then will you be able to catch their attention and make a good impression. From there, it's all you.
Winning the hearts of Russian women may not be an easy task, but once you get to earn one's love, it will all be worth it in the end.

Newest, beautiful, single women now added for week of Wednesday, 14 April, 2021 - Tuesday, 20 April, 2021
You have to meet the women to marry them! We have group singles tours departing nearly every month!